UPHOLSTERY COURSES . . .

- take the form of rolling workshops
- are taught in a spacious, well-equipped studio
- with all essential tools provided
- and materials required available to purchase at cost

click for
tea or coffee & light lunches (for day/weekend students) are included in the course fee
those from further away can stay at Ball Hill Farm itself where we have

- "rough" camping in the orchard
- self-catering in our gypsy bow-top caravan
- click on for further details -
or see for other accommodation, including local B&B
Locally, there are an abundance of good pubs to eat in, and Taunton just 6 miles away for shopping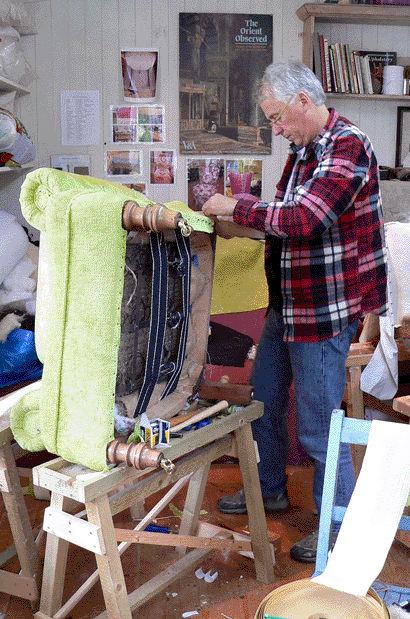 ABOUT OUR COURSES . . .
all standards & levels welcomed!
in small groups of two to five*
Daytime classes on Tuedays & Wednesdays
Evening classes on Mondays & Tuesdays
- in half-term/5 week slots
- for as small or big a project as you like
day/weekend classes
- flexible duration (Saturday, Sunday or whole weekend)
- for small projects
- or to get you started on a longer project
- or just to complete an existing project
as all standards can be catered for in any class,
many students mix & match according to their needs:
- for example local students on the evening class might attend a weekend course to push a project along
- or you might attend a weekend course & then book just one day of a later course to complete your project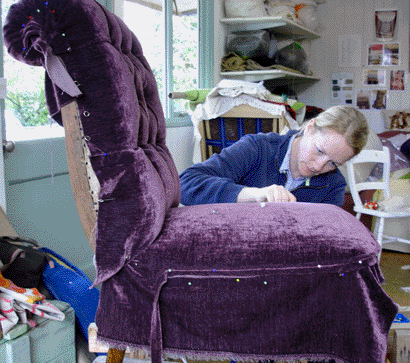 See the panel on the left for project ideas, but always telephone or email for a chat to help sort out what's best for you, and what to bring!
LINKS . . .
Want to try a one-day introductory course with Nicky at another venue? Visit the website of Bath's exciting new venue, The Makery.
Want to resource your own materials? For local students we'd recommend:



Can't find something suitable? TravelQuest's Upholstery Courses & Workshops offers a wide range of locations and courses.
For other useful links try Directory which covers businesses related to upholstery as well as other arts and crafts


*individual tuition available by arrangement
For lots more photos of course projects, to add your own pics, to find useful technical tips and for special offers on our courses, join our facebook group

NICKY'S UPHOLSTERERS